Managed Services Offered by Mireaux
So what happens after you achieve certification? 
Many people say achieving certification is not the hard part, the hard part is maintaining certification! Luckily there is Mireaux! 
For companies who got certified but do not have any resources to keep up with the management system, or for companies who had somebody in charge but that person is no longer available; Mireaux can step in to help ensure the integrity of your management system is preserved. 
See below how Mireaux can help and call us at 713-589-4680 to learn more.

On-Demand Document Control
Mireaux provides on-demand Document Control assistance for ISO or API certified organizations not wishing to have dedicated Document Control employee(s) or similar type of resources.
Regardless of your location, management system certification, or software used, Mireaux's Document Control services will ensure that your management system is kept in check when changes are due.  For organizations using our Web QMS software, the process is easier and faster, since we can make updates to your management system instantaneously.
Mireaux Associates are trained to process changes holistically, knowing that a change in a core procedure may spark updates in the Quality Manual, associated forms, documents of External Origin, Records Retention Matrix, training, etc.
Call us today and let's talk about how Mireaux can help with your Document Control needs.

Process Mapping & Procedure Writing
Mireaux brings a fresh perspective to your documentation, helping you maintain up-to-date and accurate procedures and clarifying instructions for the right audience. Using process mapping and excellent procedure writing techniques, we can help your organization break your processes down and then build them back up into a format that employees can easily read, understand, follow, and most importantly feel their own.

Job Description Writing
Mireaux's Job Description writing services can take your existing Job Descriptions and formalize them into a complete, organized, ISO/API-compliant format. Our team of experts can also work with your Human Resources Manager to create new Job Descriptions from scratch. By interviewing appropriate personnel, reviewing existing processes and procedures, and utilizing our library of templates, Mireaux can expedite the writing of useful, and accurate Job Descriptions.
We are familiar with the requirements of the ISO and API standards, and therefore we can create clear, professional Job Descriptions that your organization can readily use and benefit from.
Outsource your Document Control and enjoy the benefits
Discover how your employees have more time to do what they know best while they let us handle the details.
Frequently Asked Questions
Is a Document Control person required after we get certified?
Becoming ISO or API certified is just the beginning of a journey. Maintaining the certification is the most challenging aspect of the certification process.
Remaining certified entails not only following the processes and procedures that were established, but it also requires maintaining the integrity of the management system when changes occur. Updating your management system is part of the continual improvement principle all standards promote, therefore you have to handle them appropriately to remain in compliance.
While these responsibilities can be shared by everyone in the organization, duties related to updating of documentation, such as procedures and work instructions, are often relinquished to an employee with Document Control responsibilities. After years of experience, Mireaux strongly promotes a centralized Document Control function, as best practice. In fact Internal and External Audit results, often show Document Control as the main source of findings, which can easily be prevented with good Document Control preparation.
What to expect from Mireaux's Document Control Services?
Documentation can vary from organization to organization, based on the number of employees, complexity of the processes, and the standard or specification involved.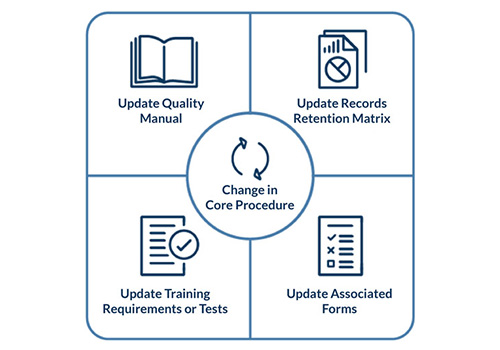 Here are a few examples of documents Mireaux helps to update and maintain as part of its Document Control Services:
Quality Manual
Quality Policy
Objectives, and Monitoring& Measuring tables/charts
Customer Satisfaction survey results, tabulation or updating of charts
Emergency plans
Procedures, including process maps
Work instructions
Forms, checklists, templates
Records Retention Matrix
List of External Documents
Approved Vendors List
List of legal requirements, etc.
Job Descriptions
Training Plans
Training Records
Training tests
For organization who use our Web QMS software, Document Control activities may extend beyond updating items listed above, and include the updating, uploading, and creation of:
Management Review Agendas, Reports, Meeting Minutes, and Action Items
Internal Audit Agendas, Reports, and Nonconformities or CIPs
External Audit Agendas, Reports, and Nonconformities or CIPs
Risk Assessment matrix and Contingency Plans
Employee Certifications
In essence, Mireaux ensures the availability of up to date information, allowing your organizations to keep its management system performing effectively.
Are Job Descriptions required?
Job descriptions per se are not required by any ISO or API standard, however they are often used to meet several critical requirements in those standards, such as:
ISO standards requirements
5.3 Organizational Roles, Responsibilities, and Authorities
7.2 Competence
7.3 Awareness
API standards requirements
4.2.2 Responsibilities, and Authorities
4.3.2.2 Competence
4.3.2.3.d Training and Awareness
What can you expect from Mireaux Job Descriptions services?
Mireaux's goal is to provide Job Descriptions that outline a complete list of the duties and responsibilities of a given position within your organization. Job Descriptions written by Mireaux typically have the following sections to satisfy the requirements of the ISO and API standards:
Duties & Responsibilities
Skills
Education
Training
Experience
Physical and Safety Requirements
How many Job Description do we need?
Mireaux promotes the creation of a Job Description for every job title within your organization. Therefore your first task should be to identify the job titles existing in your organization, which may come from your organizational charts, or procedures. Once that list is made, you will have a clear roadmap of Job Descriptions to create.
What are the benefits of well-written job descriptions?
Job Descriptions are helpful for ISO and API compliance; however they are also an asset for your organization. The benefits of clearly defined and well-written Job Descriptions include:
1. Easier Hiring Process
Because the skills and educational background needed to fill a position are clearly defined in a Job Description, your Human Resources personnel can use the Job Descriptions to select those candidates that meet the requirements defined and approved in the Job Descriptions.
2. Clear Delineation of Responsibilities
Since the duties and responsibilities of each position are clearly defined in Job Descriptions, when employees read and sign off their Job Description, they are becoming aware of what is expected from them, and are agreeing to the responsibilities assigned.
3. Better understanding of qualifications needed to advance
Mireaux promotes open communication, and thus believes that Job Descriptions should be available to everyone. In fact, in our Web QMS software, Job Descriptions can be viewed by any user. This allows employees to see what additional skills, training, education, or experience is required to advanced; not to mention, learn what the duties of the new role entails.
How can Mireaux help create procedures or other documentation?
Mireaux brings a fresh perspective to your documentation, helping you maintain up-to-date and accurate procedures and clarifying instructions for the right audience. Using process mapping and excellent procedure writing techniques, we can help your organization break your processes down and then build them back up into a format that employees can easily read, understand, follow, and most importantly feel their own.
What procedures can Mireaux help with?
Mireaux uses process mapping techniques to narrow down and identify core and support processes absolutely necessary for your organization.
In a typical manufacturing or service organization, core processes may encompass the following but not limited to:
Sales
Estimating
Quoting
Planning
Manufacturing/Service Execution
Quality Control
Packaging
Shipping
Support processes may entail the following, but not limited to:
Maintenance
Calibration
Purchasing
Supply Chain Management
Human Resources
Training
If your organization has already identified the processes in need of formal procedures, call Mireaux and let's discuss how we can help accomplish your document writing goals.
Why is having detailed or accurate procedures important for our management system?
Details that seem too obvious to include in your documentation present risk to your management system, such as:
Knowledge may be lost when experienced employees leave
Errors may be made by inexperienced employees, resulting in nonconforming products or services
Processed may be accomplished inefficiently if important steps are skipped
Why should I outsource maintenance of our certification?
Please click here to see the benefits of letting Mireaux help you maintain your certification.