Mireaux On-Demand Document Control
Mireaux provides on demand Document Control assistance for ISO or API certified organizations not wishing to have dedicated Document Control employee(s) or similar type of resources.
Regardless of your location, management system certification, or software used, Mireaux's Document Control services will ensure that your management system is kept in check when changes are due.  For organizations using our Web QMS software, the process is easier and faster, since we can make updates to your management system instantaneously.
Mireaux Associates are trained to process changes holistically, knowing that a change in a core procedure may spark updates in the Quality Manual, associated forms, documents of External Origin, Records Retention Matrix, training, etc.
Call us today and let's talk about how Mireaux can help with your Document Control needs.
Training Offerings
Mireaux's 3-day Fundamentals of Document Control course provides instruction in the creation of a document control system, the different kinds of documents an organization may use, the creation of documents, and how to handle audits of documentation required for ISO as well as API Q1 9th Edition and API Q2 compliance. Learn more about this course
NOW AVAILABLE THROUGH LIVE STREAM
Venue Phone: 7135894680
Venue Website: https://www.mireauxms.com
Address:
12802 Willow Centre Dr.
,
Houston
,
Texas
,
77066
,
United States
Nov 10 - Nov 12




8:30 am - 4:30 pm
November 10, 2020 - November 12, 2020




8:30 am - 4:30 pm
Mireaux's 4-day Advanced Document Control course builds upon the 3-day Fundamentals, with the addition of 1 day in enhanced document control practices. These focus on the requirements associated with engineering and project management documents, such as Databooks, Transmittals, PI&D, Project Plans, and more. Learn more about this course.
NOW AVAILABLE THROUGH LIVE STREAM
Venue Phone: 7135894680
Venue Website: https://www.mireauxms.com
Address:
12802 Willow Centre Dr.
,
Houston
,
Texas
,
77066
,
United States
Nov 10 - Nov 13




8:30 am - 4:30 pm
November 10, 2020 - November 13, 2020




8:30 am - 4:30 pm
Auditing Capabilities
Mireaux Management Solutions has extensive experience conducting various types of audits, including the following:
Mireaux can help you implement an audit program that is suitable to your organization and that can be carried out effectively and consistently.
Web QMS Software
Cloud-base, secure and powerful, our Web QMS software helps you achieve, maintain, and improve your ISO and API certifications, allowing your employees full access and visibility to your management system – anytime, anywhere.
Approved Supplier List -> Supplier Corrective Actions
Asset Register
Behavioral Base Safety (BBS)
Business Continuity Plan (BCP)
Calibration -> Out-of-Tolerance Conditions
Communication Plan
Conformity Matrix
Contingency Planning
Corrective Action
Critical Processes
Critical Services and SRP
Customer Complaints
Customer Property
Customer Satisfaction
E-Learning
Emergency Contacts
Emergency Preparedness
Employee Certifications
Employee Handbook
Equipment Maintenance
External Audits -> External Audit Findings
External Documents
Glossary
HSE Manual
HSE Policy
Information Security Incidents
Internal Audits -> Internal Audit Findings
Inventory Control
ISMS Manual
ISMS Policy
Job Descriptions
Job Safety Analysis (JSA)
Lessons Learned
List of Legal Requirements
Main Process Map
Management of Change (MOC)
Management Reviews -> Management Review Action Items
Monitoring and Measuring
Nonconformance Report (NCR)
Objectives
Organizational Charts
Preventive Action
Procedures, Work Instructions & Forms
Product Quality Plans
Quality Manual
Quality Policy
Records Retention
Risk Assessment -> Significant Risks
Safety Incidents
Service Quality Plan
Short Service Employee (SSE)
Special Interest Groups
Statement of Applicability
Training Events
Training Plan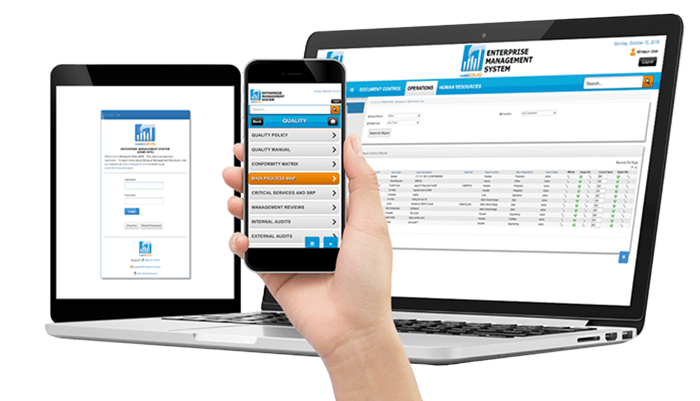 Frequently Asked Questions
Becoming ISO or API certified is just the beginning of a journey. Maintaining the certification is the most challenging aspect of the certification process.
Remaining certified entails not only following the processes and procedures that were established, but it also requires maintaining the integrity of the management system when changes occur. Updating your management system is part of the continual improvement principle all standards promote, therefore you have to handle them appropriately to remain in compliance.
While these responsibilities can be shared by everyone in the organization, duties related to updating of documentation, such as procedures and work instructions, are often relinquished to an employee with Document Control responsibilities. After years of experience, Mireaux strongly promotes a centralized Document Control function, as best practice. In fact Internal and External Audit results, often show Document Control as the main source of findings, which can easily be prevented with good Document Control preparation.
Documentation can vary from organization to organization, based on the number of employees, complexity of the processes, and the standard or specification involved.
Here are a few examples of documents Mireaux helps to update and maintain as part of its Document Control Services:
Quality Manual
Quality Policy
Objectives, and Monitoring& Measuring tables/charts
Customer Satisfaction survey results, tabulation or updating of charts
Emergency plans
Procedures, including process maps
Work instructions
Forms, checklists, templates
Records Retention Matrix
List of External Documents
Approved Vendors List
List of legal requirements, etc.
Job Descriptions
Training Plans
Training Records
Training tests
For organization who use our Web QMS software, Document Control activities may extend beyond updating items listed above, and include the updating, uploading, and creation of:
Management Review Agendas, Reports, Meeting Minutes, and Action Items
Internal Audit Agendas, Reports, and Nonconformities or CIPs
External Audit Agendas, Reports, and Nonconformities or CIPs
Risk Assessment matrix and Contingency Plans
Employee Certifications
In essence, Mireaux ensures the availability of up to date information, allowing your organizations to keep its management system performing effectively.