ISO 45001:2018 Consulting
Mireaux's consulting services provide a clear and proven path to ISO 45001 certification and the establishment of an Occupational Health and Safety Management System.
For more information about how Mireaux can provide your organization with ISO 45001:2018 certification consulting and related services, call us today at 713-589-4680.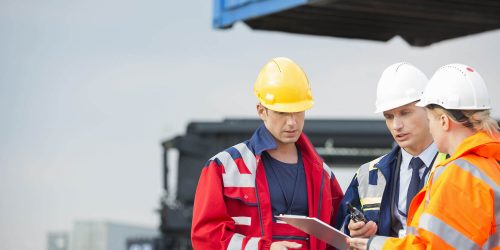 Mireaux assists organizations in all industries with ISO 45001 consulting, training, audits, managed services and Web QMS software.
About ISO 45001
The ISO 45001 standard "Occupational Health and Safety Management Systems – Requirements with Guidance for Use", provides a robust and effective set of processes for improving work safety in global supply chains. Designed to help organizations of all sizes and industries, the new International Standard is expected to reduce workplace injuries and illnesses around the world.
In these times of rising awareness of the importance of occupational health and safety (OH&S), which includes increasingly strict legislation governing those areas, many organizations want to improve their OH&S practices and avoid OH&S issues. Intermittent "reviews" or "audits," conducted on an annual or semi-annual basis, can provide a snapshot assessment of an organization's legal and policy compliance. However, these reviews are not sufficient to provide assurance that an organization will continue to meet its legal and policy obligations. To get that kind of guarantee, companies need a structured OH&S management system that works within their organization every day, not just a few times a year.
Using our Proven Consulting Approach, Mireaux has the knowledge and expertise to help organizations achieve ISO 45001 certification for the first time, add ISO 45001 certification to an existing one, or migrate from the old OHSAS 18001 to the new ISO 45001:2018 version. If you're looking for an ISO 45001 consultant, contact us to learn about our process.
ISO 45001 is based on OHSAS 18001, along with various other national standards. ISO 45001 replaces OHSAS 18001, the world's former reference for workplace health and safety.
Auditing Capabilities
Mireaux Management Solutions has extensive experience conducting various types of audits against the ISO 45001 standard, including the following:
Mireaux can help you implement an audit program that is suitable to your organization and that can be carried out effectively and consistently.
Web QMS Software
Cloud-based, secure and powerful, our Web QMS software helps you achieve, maintain, and improve your ISO 45001:2018 certification, allowing your employees full access and visibility to your management system – anytime, anywhere.
Approved Supplier List -> Supplier Corrective Actions
Asset Register
Behavioral Base Safety (BBS)
Business Continuity Plan (BCP)
Calibration -> Out-of-Tolerance Conditions
Communication Plan
Conformity Matrix
Contingency Planning
Corrective Action
Critical Processes
Critical Services and SRP
Customer Complaints
Customer Property
Customer Satisfaction
E-Learning
Emergency Contacts
Emergency Preparedness
Employee Certifications
Employee Handbook
Equipment Maintenance
External Audits -> External Audit Findings
External Documents
Glossary
HSE Manual
HSE Policy
Information Security Incidents
Internal Audits -> Internal Audit Findings
Inventory Control
ISMS Manual
ISMS Policy
Job Descriptions
Job Safety Analysis (JSA)
Lessons Learned
List of Legal Requirements
Main Process Map
Management of Change (MOC)
Management Reviews -> Management Review Action Items
Monitoring and Measuring
Nonconformance Report (NCR)
Objectives
Organizational Charts
Preventive Action
Procedures, Work Instructions & Forms
Product Quality Plans
Quality Manual
Quality Policy
Records Retention
Risk Assessment -> Significant Risks
Safety Incidents
Service Quality Plan
Short Service Employee (SSE)
Special Interest Groups
Statement of Applicability
Training Events
Training Plan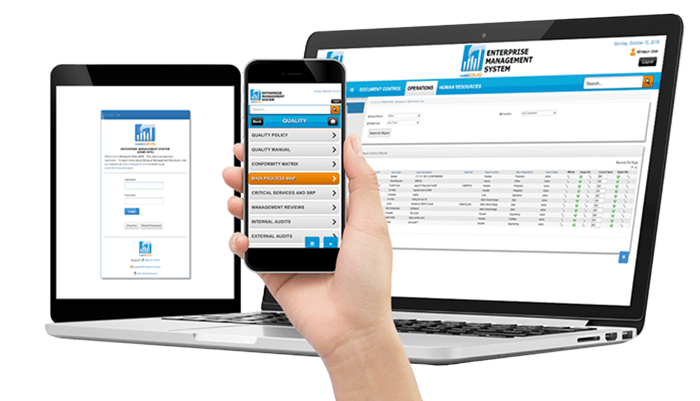 Frequently Asked Questions
Increases employee safety consciousness and morale
Reduces accidents, claims, and lost work days
Increases preparation for regulatory checks
Reduces risk of citations and penalties
Cuts healthcare costs through long-term prevention
Potentially reduces insurance costs
Improves corporate image among regulators, customers and the public
The new ISO 45001 standard was released on March 12, 2018.  This standard replaces the former OHSAS 18001 standard.
Organizations already certified to OHSAS 18001 will have three years from March 2018 to comply with the new ISO 45001 standard, although certification of conformity to ISO 45001 is not a requirement of the standard. Count on Mireaux for expertise and guidance through ISO 45001 consulting, training, audits, managed services and Web QMS management system software.
The ISO 45001 standard follows the same management system approach as other ISO standards such as ISO 14001 and ISO 9001, which includes the High Level Structure and the common framework that helps with management system integration.
Based on this, ISO 45001 is indeed designed to integrate with other ISO management system standards, ensuring a high level of compatibility among them. Businesses who have implemented the ISO 9001 and ISO 14001 standards' requirements correctly, should see an easier path for integration with ISO 45001 requirements.