ISO 14001:2015 Consulting
Mireaux provides ISO 14001 Certification Consulting for organizations looking to identify and manage their environmental impact.
As the population becomes conscious of the adverse effects of industrial development on the environment, "going green" has become more than just a buzzword; it's become part of a cultural shift.
Using our Proven Consulting Approach, Mireaux has the knowledge and expertise to help organizations achieve ISO 14001 certification or integrate these requirements to an existing certification.
Call Mireaux at 713-589-4680 to request more information on our proven, custom-tailored ISO 14001 consulting services.
About ISO 14001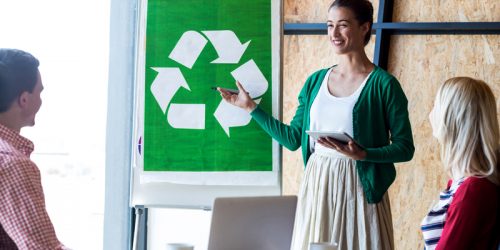 Mireaux's ISO 14001 consulting services help clients achieve and maintain performant Environmental Management Systems
The ISO 14001 standard outlines the requirements for organizations to establish, implement, maintain, and improve an Environmental Management System to enhance its environmental performance. ISO 14001 is the second largest of all ISO standards, based on the number of certificates issued worldwide which currently stands at almost 350,000.
While certain organizations may have a larger impact on the environment than others, ISO 14001 is applicable to any organization, regardless of size, type and nature. It applies to the environmental aspects of the activities, products, and services that the organization determines it can either control or influence considering a life cycle perspective.
Auditing Capabilities
Mireaux Management Solutions has extensive experience conducting various types of audits against the ISO 14001 standard, including the following:
Mireaux can help you implement an audit program that is suitable to your organization and that can be carried out effectively and consistently.
Web QMS Software
Cloud-based, secure and powerful, our Web QMS software helps you achieve, maintain, and improve your ISO 14001:2015 certification, allowing your employees full access and visibility to your management system – anytime, anywhere.
Approved Supplier List -> Supplier Corrective Actions
Asset Register
Behavioral Base Safety (BBS)
Business Continuity Plan (BCP)
Calibration -> Out-of-Tolerance Conditions
Communication Plan
Conformity Matrix
Contingency Planning
Corrective Action
Critical Processes
Critical Services and SRP
Customer Complaints
Customer Property
Customer Satisfaction
E-Learning
Emergency Contacts
Emergency Preparedness
Employee Certifications
Employee Handbook
Equipment Maintenance
External Audits -> External Audit Findings
External Documents
Glossary
HSE Manual
HSE Policy
Information Security Incidents
Internal Audits -> Internal Audit Findings
Inventory Control
ISMS Manual
ISMS Policy
Job Descriptions
Job Safety Analysis (JSA)
Lessons Learned
List of Legal Requirements
Main Process Map
Management of Change (MOC)
Management Reviews -> Management Review Action Items
Monitoring and Measuring
Nonconformance Report (NCR)
Objectives
Organizational Charts
Preventive Action
Procedures, Work Instructions & Forms
Product Quality Plans
Quality Manual
Quality Policy
Records Retention
Risk Assessment -> Significant Risks
Safety Incidents
Service Quality Plan
Short Service Employee (SSE)
Special Interest Groups
Statement of Applicability
Training Events
Training Plan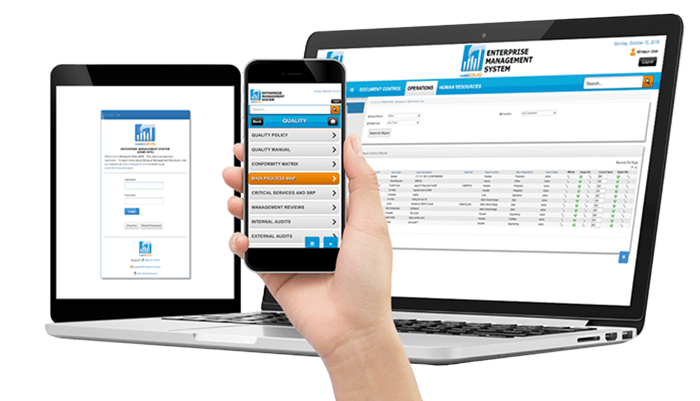 Frequently Asked Questions
Key benefits organizations gain from proper ISO 14001 implementation can be summarized as improved environmental performance through:
More efficient use of resources
Reduction in environmental impact
Reduction in waste and waste management
Reduction in risk of legal or regulatory penalties
Improved corporate image among regulators, customers, and the public
Enhanced trust from stakeholders
As in all ISO standards, the ISO 14001 belongs to a family of standards that provides practical tools for organizations of all kinds looking to manage their environmental responsibilities.  The only standard that you can certify to -within this family- is the ISO 14001 standard, which was updated in 2015.  Prior to this, the standard's last version was issued in 2004.
If your organization is seeking a new ISO 14001 certification, the version that you should use is the 2015 version.  If you are currently certified to the 2004 version and need to transition to the 2015 version, please contact us. In addition to ISO 14001:2015 consulting, we also provide training, managed services, and Web QMS software.
With the advent of the "Common Framework" embedded in all ISO standards, implementation of multiple ISO standards can be done easier and more cohesively. Organizations already certified to ISO 9001, ISO 45001, or other management systems need not develop a separate management system for ISO 14001.  Rather, these organizations should enhance their existing management systems, building upon a good infrastructure, and strengthen it based on the changed or new requirements.