Business Integration Strategic Consulting
With the expansion of global markets, global supply chains, and the flood of communication; organizations are in a constant state of change, improvement, and growth. Mireaux has extensive experience helping growing organizations promote cohesiveness and integration through the implementation of a corporate or global management system based on the ISO or API standards. 
In fact, we have found that bringing Mireaux as the neutral party can help mitigate any internal issues that may surface when trying to bring together different divisions or companies. With its Proven Consulting Approach, Mireaux can help bring synergy between newly formed or growing organizations through an integrated corporate or global management system. 
All of the ISO and API standards are proven benchmarks, promoting concepts such as the Process Approach, Document Control, Risk Assessment, and Continual Improvement as the cornerstone for success. Using them as the basis for integration can certainly benefit any growing organization.
Call Mireaux now at 713-589-4680 and schedule a meeting to discuss your current situation and see how Mireaux can help bring it all – and everyone – together.
Web QMS Software
Cloud-based, secure and powerful, our Web QMS software helps you achieve, maintain, and improve your Business Integration, allowing your employees full access and visibility to your management system – anytime, anywhere.
Approved Supplier List -> Supplier Corrective Actions
Asset Register
Behavioral Base Safety (BBS)
Business Continuity Plan (BCP)
Calibration -> Out-of-Tolerance Conditions
Communication Plan
Conformity Matrix
Contingency Planning
Corrective Action
Critical Processes
Critical Services and SRP
Customer Complaints
Customer Property
Customer Satisfaction
E-Learning
Emergency Contacts
Emergency Preparedness
Employee Certifications
Employee Handbook
Equipment Maintenance
External Audits -> External Audit Findings
External Documents
Glossary
HSE Manual
HSE Policy
Information Security Incidents
Internal Audits -> Internal Audit Findings
Inventory Control
ISMS Manual
ISMS Policy
Job Descriptions
Job Safety Analysis (JSA)
Lessons Learned
List of Legal Requirements
Main Process Map
Management of Change (MOC)
Management Reviews -> Management Review Action Items
Monitoring and Measuring
Nonconformance Report (NCR)
Objectives
Organizational Charts
Preventive Action
Procedures, Work Instructions & Forms
Product Quality Plans
Quality Manual
Quality Policy
Records Retention
Risk Assessment -> Significant Risks
Safety Incidents
Service Quality Plan
Short Service Employee (SSE)
Special Interest Groups
Statement of Applicability
Training Events
Training Plan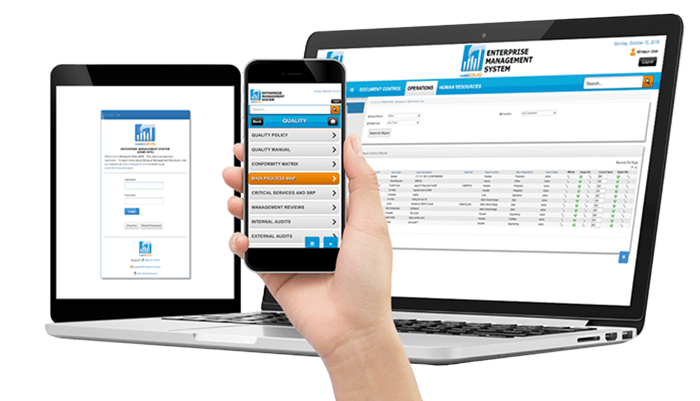 Frequently Asked Questions
Buyouts, mergers & acquisitions, and absorptions are increasingly more prevalent in the business world. When these situations occur, questions that commonly arise include:
How to preserve the quality of our products and services
How to ensure the new organization forms a cohesive unit
How to retain knowledge and talent
Integration means working together to overcome obstacles, sharing best practices to improve processes, and finding the right place for the right people in the new organization. Implementing a management system based on the ISO or API standards, can help find common ground and bring structure in what otherwise could be a chaotic growth and integration process.
Mireaux's proven consulting approach makes extensive use of process mapping techniques for documenting the processes in an organization. Utilizing these techniques, Mireaux can achieve the following:
Identify best practices
Find common ground for global processes
Formalize ad hoc processes
Involve all people, at all levels
Promote process ownership
Promote management system ownership
In essence, Mireaux uses the implementation or enhancement of a management system, as the catalyst for unification.