AS 9100:2016(D) Consulting
Mireaux provides Certification Consulting assistance to organizations seeking implementation of a Quality Management System based on the AS 9100 standard for Aviation, Space, and Defense Organizations.
By considering AS 9100 certification, your organization is demonstrating an interest in providing safe and reliable products, to satisfy as well as to achieve the requirements of the aviation, space, and defense industry and other applicable statutory and regulatory requirements. This standard will help position your organization above other suppliers, able to demonstrate that you can deliver products and services to multiple customers having varying quality requirements and expectations throughout the world and at all levels of the supply chain.
As with any other standard, Mireaux will help your organization implement AS 9100 with a systematic, and project-based approach; that will result not only in successful certification, but in value-added processes, reduction of costs, and improved quality and delivery performance. Call Mireaux today at 713-589-4680 to discuss proven, custom-tailored AS 9100 consulting services for your business.
About AS 9100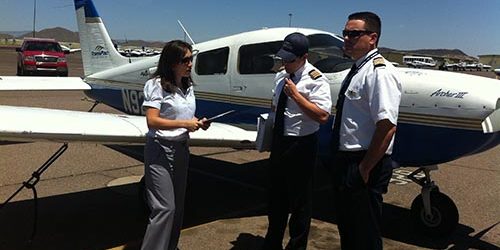 Mireaux's AS 9100 consulting services help clients achieve and maintain high performing Quality Management Systems
AS 9100 is an internationally adopted and standardized Quality Management System for the aerospace industry. The AS 9100 standard outlines requirements for organizations to establish, implement, maintain, and improve a comprehensive Quality Management System for providing safe and reliable products to the Aviation, Space, and Defense industry, as well as civil and military aviation requirements. AS 9100 builds upon the ISO 9001 requirements by supplementing them with additional quality system requirements established by the aerospace industry to satisfy organizations such as DOD, NASA, and the FAA and can be used at all levels of the supply chain by organizations around the world.
AS 9100 was released in October, 1999 by the Society of Automotive Engineers and the European Association of Aerospace Industries. AS 9100 replaced the earlier AS 9000 version and fully incorporates the entirety of the current version of ISO 9001, while adding requirements related to quality and safety. As a condition of doing business, many major aerospace manufacturers and suppliers worldwide require compliance and/or registration to AS 9100.
Nowadays, the International Aerospace Quality Group (IAQG), with representatives from aviation, space, and defense companies in the Americas, Asia/Pacific, and Europe, has been established to provide supporting information for organizations that apply the AS 9100 standard, and to provide guidance for organizations that choose to progress beyond its requirements.
Using our Proven Consulting Approach, Mireaux has the knowledge and expertise to help organizations achieve AS 9100 certification for the first time, add AS 9100 certification to an existing one, or migrate from the old AS 9100C to the new AS 9100D version. If you're looking for an AS 9100 consultant, contact us to learn about our process.
Other Standards developed by IAQG
The AS 9100 standard is one of the three Quality Management System standards developed by the IAQG. Other standards are as follows:
9110, "Quality Management Systems – Requirements for Aviation Maintenance Organizations": This document standardizes Quality Management System requirements to the greatest extent possible and can be used at all levels of the supply chain by organizations around the world. Its use should result in improved quality, schedule, and cost performance by the reduction or elimination of organization-unique requirements and wider application of good practice. While primarily developed for the civil and military aviation industry organizations providing maintenance services, this standard can also be used in other industry sectors when a Quality Management System with additional requirements over an ISO 9001 system is needed.
9120, "Quality Management Systems – Requirements for Aviation, Space and Defense Distributors": This standard is for use by organizations that procure parts, materials, and assemblies and resells these products to a customer in the aviation, space, and defense industries. This includes organizations that procure products and split them into smaller quantities including those that coordinate a customer or regulatory controlled process on the product. This standard is not intended for organizations that maintain or repair products, or for organizations that perform work that affect or could affect product characteristics or conformity.
Call Mireaux at 713-589-4680 and learn how our team can help you achieve your AS 9100, AS 9110, or AS 9120 certification goals.
Auditing Capabilities
Mireaux Management Solutions has extensive experience conducting various types of audits against the ISO standards, including the following:
Mireaux can help you implement an audit program that is suitable to your organization and that can be carried out effectively and consistently.
Web QMS Software
Cloud-based, secure and powerful, our Web QMS software helps you achieve, maintain, and improve your AS 9100:2016 certification, allowing your employees full access and visibility to your management system – anytime, anywhere.
Approved Supplier List -> Supplier Corrective Actions
Asset Register
Behavioral Base Safety (BBS)
Business Continuity Plan (BCP)
Calibration -> Out-of-Tolerance Conditions
Communication Plan
Conformity Matrix
Contingency Planning
Corrective Action
Critical Processes
Critical Services and SRP
Customer Complaints
Customer Property
Customer Satisfaction
E-Learning
Emergency Contacts
Emergency Preparedness
Employee Certifications
Employee Handbook
Equipment Maintenance
External Audits -> External Audit Findings
External Documents
Glossary
HSE Manual
HSE Policy
Information Security Incidents
Internal Audits -> Internal Audit Findings
Inventory Control
ISMS Manual
ISMS Policy
Job Descriptions
Job Safety Analysis (JSA)
Lessons Learned
List of Legal Requirements
Main Process Map
Management of Change (MOC)
Management Reviews -> Management Review Action Items
Monitoring and Measuring
Nonconformance Report (NCR)
Objectives
Organizational Charts
Preventive Action
Procedures, Work Instructions & Forms
Product Quality Plans
Quality Manual
Quality Policy
Records Retention
Risk Assessment -> Significant Risks
Safety Incidents
Service Quality Plan
Short Service Employee (SSE)
Special Interest Groups
Statement of Applicability
Training Events
Training Plan