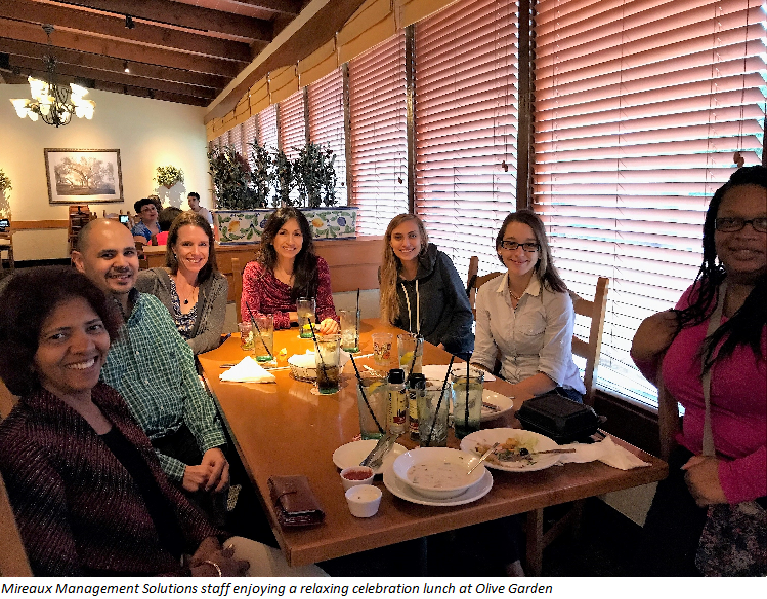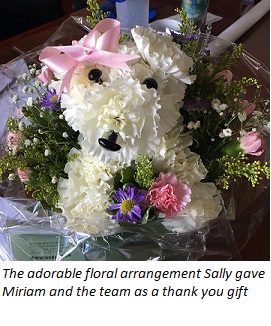 At Mireaux, we treat our staff like family and our interns are no different. Our intern, Sally, just wrapped up an exciting summer working on several different projects with our staff. Mireaux staff had a nice lunch where we got to enjoy each other's company outside of the work environment, relax, talk about the future of Mireaux Management Solutions, and welcome our new Technical Writer, Allison!
On her last day at Mireaux, Sally presented our CEO, Miriam Boudreaux, with an adorable flower arrangement in the shape of a dog and a thank you card. The card reads "Thank you for giving me the opportunity to work for you this Summer. I enjoyed learning from you and everyone here at Mireaux Management Solutions. I hope to make good use of these skills. It has been a real pleasure!"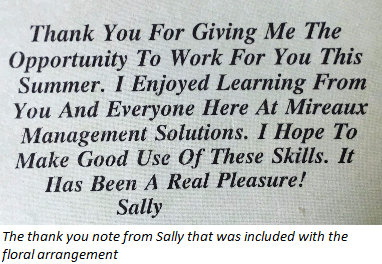 We are so thankful for all the help and hard work Sally put in this Summer and appreciative of the sweet gesture with the cute flower dog and the card.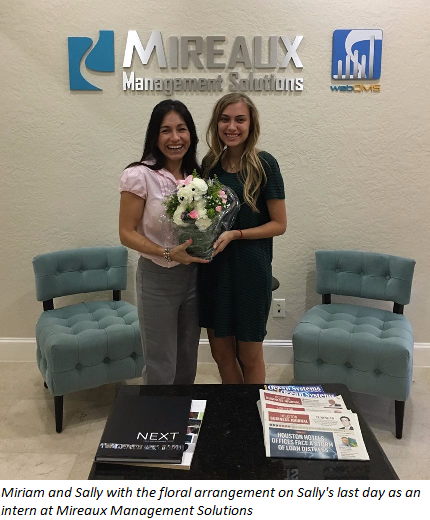 An internship is an opportunity offered by an employer to college students or potential employees, called interns, to work at a company for a limited period of time, usually completed during the summer. Internships offer students a period of "real-world" experience in the industry relating to their field of study.
This experience is valuable to students as a means of allowing them to experience how their studies are applied in a professional environment, and as work experience that can be highly attractive to potential employers on a candidate's resume. At Mireaux, we appreciate interns and make a point to give somebody this opportunity every summer. This year we had the pleasure to host Sally. We wish Sally lots of luck on her third year at Texas Tech!
We are also excited to welcome our new Technical Writer, Allison to our team. Allison will be working closely with all our staff and we are very happy to have her.
Although the Technical Writer position is filled, there's still plenty of opportunities to work with us. As we continue to grow, we need high caliber individuals to join our team.  We are currently hiring for a Training Development Manager who will be responsible for designing, developing, and deploying E-learning content applicable to our company services and our industry. This individual will have the exciting opportunity to form and lead a team that will augment our E-learning services. We're also seeking a Management System Consultant that will assist clients in the development, implementation, execution, and refinement of management systems that comply with ISO, API, or other national or international standard. Finally, we're seeking an Account Manager that will be responsible for handling inquiries, providing estimates, proposals, and ensuring the growth and sustainability of Mireaux's Services.
ABOUT MIREAUX
Mireaux Management Solutions is a Technology and Consulting firm headquartered in Houston, TX. Mireaux assists organizations in the implementation of ISO 9001, ISO 14001, OHSAS 18001 and ISO 27001 standards, as well as the API Specification Q1 9th Edition and API Specification Q2. Through Consulting, Auditing, Training and its proprietary Web QMS software, Mireaux is capable of handling all your ISO and API certification needs.  To get in touch with Mireaux, contact us at info@www.mireauxms.com.