After more than a year of hard work and dedication, Mireaux Management Solutions rang in the New Year with a bang for customers. We kicked off 2019 with a completely redesigned website, plus we released major core upgrades to our top-rated cloud software, Web QMS.
Throughout the previous year 2018, Mireaux experienced steady growth throughout its services, including Consulting, Auditing, Training, Web QMS, and Managed Services. However, we also identified processes that could be improved. This lead to an in-house repositioning effort to focus on areas that could further enhance Mireaux's visibility and increase the value of its offerings.
In early 2018, we engaged a local marketing firm to redesign our company website. Miriam Boudreaux, CEO of Mireaux commented: "The redesign of our website was a major task, as we wanted to ensure that it was not just a selling tool, but also a resource for existing and potential Clients who may come to our site to learn about our Consulting approach or to sign up for a class. And to be true to our ISO 27001 Information Security certification, we also wanted to offer the utmost security during E-commerce transactions that take place in our site."
Mireaux's new website offers an improved look and feel, but that is just one of the benefits of the website redesign. Visitors will also have a much clearer view of Mireaux's training courses schedule, with end to end security during registration for training, checkout, and any submission of personal information.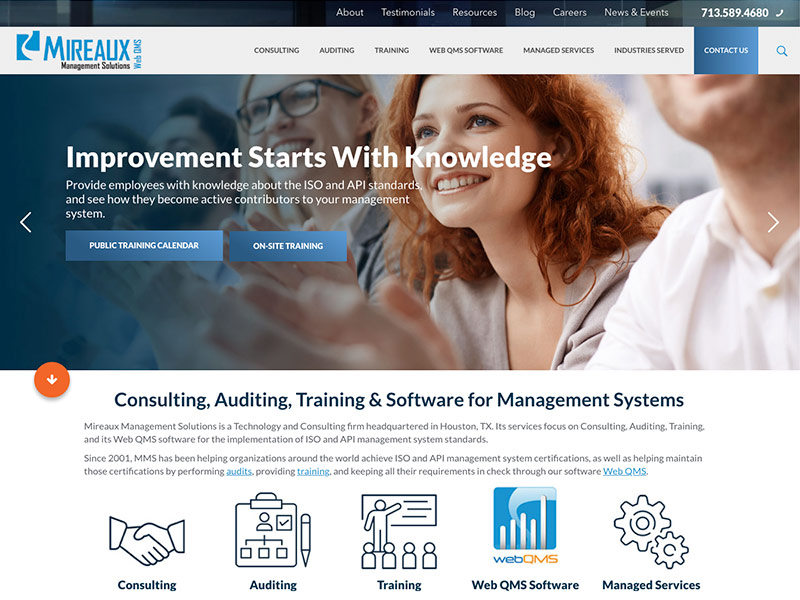 As the authority on ISO and API standards, Mireaux's website has been updated to highlight the most common standards that Mireaux helps with. Frequently Asked Questions were expanded and are available to assist new visitors navigating ISO and API concepts and related information.
Similarly, our Web QMS software now shows the full array of modules and applications available. And we expanded their descriptions to focus on the compliance-driven nature of each component.
Finally, we stepped up site security in order to deliver the best possible experience for all visitors. With Authorize.net, GoDaddy Extended Validation (EV) SSL, and McAfee Security Certificates, Mireaux is committed to verifiable trust and security measures to protect customer data and privacy at all times.
In our next post, we'll share details on our recent updates to Web QMS software, and how it can help organizations drive compliance and achieve your Quality, Health, Safety, Environmental, and Information Security Management Systems goals.