On a nice afternoon in March, Mireaux Management Solutions threw a party for NS Controls to celebrate not just their transition to ISO 9001:2015 but also their huge accomplishment of revamping their Quality Management System (QMS).
NS Controls employees pose proudly for a picture with their banner showing their ISO 9001:2015 certification.
When NS Controls first approached Mireaux in 2016, they were looking for somebody to conduct their Internal Audit.  After being selected – Mireaux came, audited, and delivered, as highlighted by the Quality Manager H. Price: "We were looking for a high quality internal audit and we found it. [Mireaux] definitely had the expertise to run the internal audit efficiently and effectively in spite of challenges."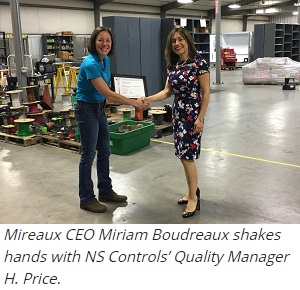 With the successful audit behind, and after attending one of our public training courses, NS Controls began to inquire about other Mireaux services. Transition from ISO 9001:2008 to the ISO 9001:2015 was in their to-do list, and Mireaux was their first choice to help them in this endeavor.  Ultimately they decided not just to transition, but to also use this opportunity to revamp their entire QMS and utilize Mireaux's Web QMS software in the process.
As with all of our Consulting projects, Mireaux assigned a Consultant, Technical Writer, and Lead Auditor to the project and began working hand-in-hand with NS Control's stakeholders every step of the way. Revamping of their Web QMS, transitioning to ISO 9001:2015, and migrating to Web QMS were all completed in a little over 9 months. Boudreaux added "We were excited about this project because of the great trust that was placed in our company and the increasing reliance in our services. What started with a simple audit, has not become a great partnership, connected through our Auditing, Web QMS Software and on-demand Document Control services. We are committed to continue to do our best to ensure NS Controls continually improves.
And to celebrate NS Controls' achievement, Mireaux brought the party to their facilities Mireaux style – with a special cake, ISO 9001:2015 Certification Banner, gifts, and a festive mood to thank them and congratulate them on their achievement.