Product & Monogram Audit Services
Product Audits evaluate actual product, product family, parts, or product components against a certain specification(s), which is the criteria for the audit. Product Audits seek to find out if the product meets the exact requirements called out in the criteria used, or if the product performs as expected. Those requirements can be self-imposed, customer driven, can be governmental, or industry requirements.  
AUDITS CONDUCTED ON-SITE AND VIA REMOTE AUDITING
Many products can also be certified to a specification, and therefore require an audit to verify compliance, such as the case of API monogramed products. For up to date information on API Monograms, please visit API's website at www.api.org.
Contact Mireaux at 713.589.4680 and let's discuss how we can help conduct your Product or Monogram Audit.
Here are a few examples of Product Audits criteria that Mireaux can help with:
API Spec 4F: Specification for Drilling and Well Services Structures
API Spec 6A: Specification for Wellhead and Christmas Tree Equipment
API Spec 7-1: Specification for Rotary Drill Stem Elements
API Spec 11E: Specification for Pumping Units
Consulting Capabilities
Mireaux's Consulting services involve full turnkey assistance in the development and implementation of management systems that conform to the desired ISO, or API standards.
Standards Include:
Web QMS Software
Cloud-based, secure and powerful, our Web QMS software helps you achieve, maintain, and improve your ISO and API certifications, allowing your employees full access and visibility to your management system – anytime, anywhere.
Approved Supplier List -> Supplier Corrective Actions
Asset Register
Behavioral Base Safety (BBS)
Business Continuity Plan (BCP)
Calibration -> Out-of-Tolerance Conditions
Communication Plan
Conformity Matrix
Contingency Planning
Corrective Action
Critical Processes
Critical Services and SRP
Customer Complaints
Customer Property
Customer Satisfaction
E-Learning
Emergency Contacts
Emergency Preparedness
Employee Certifications
Employee Handbook
Equipment Maintenance
External Audits -> External Audit Findings
External Documents
Glossary
HSE Manual
HSE Policy
Information Security Incidents
Internal Audits -> Internal Audit Findings
Inventory Control
ISMS Manual
ISMS Policy
Job Descriptions
Job Safety Analysis (JSA)
Lessons Learned
List of Legal Requirements
Main Process Map
Management of Change (MOC)
Management Reviews -> Management Review Action Items
Monitoring and Measuring
Nonconformance Report (NCR)
Objectives
Organizational Charts
Preventive Action
Procedures, Work Instructions & Forms
Product Quality Plans
Quality Manual
Quality Policy
Records Retention
Risk Assessment -> Significant Risks
Safety Incidents
Service Quality Plan
Short Service Employee (SSE)
Special Interest Groups
Statement of Applicability
Training Events
Training Plan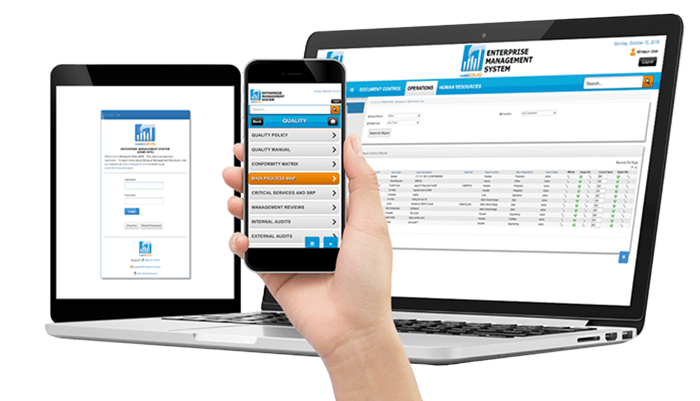 Frequently Asked Questions