ISO & API Gap Analysis
The purpose of the Gap Analysis or Gap Assessment is to find the gaps between an organization's management system and the ISO or API criteria they are aiming to conform with or certify to. The results of the Gap Analysis should outline, clause by clause, what requirements of defined criteria are not being met or cannot be verified as being fulfilled; and what needs to be completed in order to meet those requirements.
A Gap Analysis is an exhaustive exercise, in which every clause of the ISO or API standard is checked for compliance. While a thorough Gap Analysis includes verification of implementation, it is highly focused on reviewing required documentation and records– usually performed from a desk or meeting room. This is why Gap Analyses are also called "Desktop Audits".
AUDITS CONDUCTED ON-SITE AND VIA REMOTE AUDITING
Contact Mireaux and let our expert Auditors gauge your progress and efforts toward certification. Call us at 713-589-4680.
Consulting Capabilities
Mireaux's Consulting services involve full turnkey assistance in the development and implementation of management systems that conform to the desired ISO, or API standards.
Standards Include:
Web QMS Software
Cloud-based, secure and powerful, our Web QMS software helps you achieve, maintain, and improve your ISO and API certifications, allowing your employees full access and visibility to your management system – anytime, anywhere.
Approved Supplier List -> Supplier Corrective Actions
Asset Register
Behavioral Base Safety (BBS)
Business Continuity Plan (BCP)
Calibration -> Out-of-Tolerance Conditions
Communication Plan
Conformity Matrix
Contingency Planning
Corrective Action
Critical Processes
Critical Services and SRP
Customer Complaints
Customer Property
Customer Satisfaction
E-Learning
Emergency Contacts
Emergency Preparedness
Employee Certifications
Employee Handbook
Equipment Maintenance
External Audits -> External Audit Findings
External Documents
Glossary
HSE Manual
HSE Policy
Information Security Incidents
Internal Audits -> Internal Audit Findings
Inventory Control
ISMS Manual
ISMS Policy
Job Descriptions
Job Safety Analysis (JSA)
Lessons Learned
List of Legal Requirements
Main Process Map
Management of Change (MOC)
Management Reviews -> Management Review Action Items
Monitoring and Measuring
Nonconformance Report (NCR)
Objectives
Organizational Charts
Preventive Action
Procedures, Work Instructions & Forms
Product Quality Plans
Quality Manual
Quality Policy
Records Retention
Risk Assessment -> Significant Risks
Safety Incidents
Service Quality Plan
Short Service Employee (SSE)
Special Interest Groups
Statement of Applicability
Training Events
Training Plan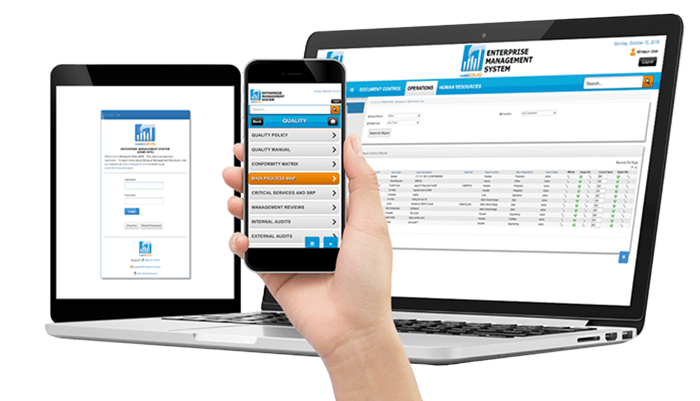 Frequently Asked Questions