ISO 27001 ISMS Auditing Services
As the world's immersion into everything electronic and connected continues, issues regarding data and information security are becoming ever so prevalent. Audits against ISO 27001 standard, focus on "Information Security", seeking to ensure the confidentiality, integrity, and availability of information assets.
Auditors with knowledge of this standard are scarce, and competency is typically achieved by working in an environment certified to the standard.  Mireaux's own ISO 27001 certification and exposure to its cloud-based Web QMS software, gives it an edge over the competition.
Learn more about working with Mireaux's team by calling 713-589-4680.
Consulting Capabilities
Mireaux's Consulting services involve full turnkey assistance in the development and implementation of management systems that conform to the desired ISO, or API standards.
Standards Include:
Web QMS Software
Cloud-base, secure and powerful, our Web QMS software helps you achieve, maintain, and improve your ISO 27001:2013 certification, allowing your employees full access and visibility to your management system – anytime, anywhere.
Approved Supplier List -> Supplier Corrective Actions
Asset Register
Behavioral Base Safety (BBS)
Business Continuity Plan (BCP)
Calibration -> Out-of-Tolerance Conditions
Communication Plan
Conformity Matrix
Contingency Planning
Corrective Action
Critical Processes
Critical Services and SRP
Customer Complaints
Customer Property
Customer Satisfaction
E-Learning
Emergency Contacts
Emergency Preparedness
Employee Certifications
Employee Handbook
Equipment Maintenance
External Audits -> External Audit Findings
External Documents
Glossary
HSE Manual
HSE Policy
Information Security Incidents
Internal Audits -> Internal Audit Findings
Inventory Control
ISMS Manual
ISMS Policy
Job Descriptions
Job Safety Analysis (JSA)
Lessons Learned
List of Legal Requirements
Main Process Map
Management of Change (MOC)
Management Reviews -> Management Review Action Items
Monitoring and Measuring
Nonconformance Report (NCR)
Objectives
Organizational Charts
Preventive Action
Procedures, Work Instructions & Forms
Product Quality Plans
Quality Manual
Quality Policy
Records Retention
Risk Assessment -> Significant Risks
Safety Incidents
Service Quality Plan
Short Service Employee (SSE)
Special Interest Groups
Statement of Applicability
Training Events
Training Plan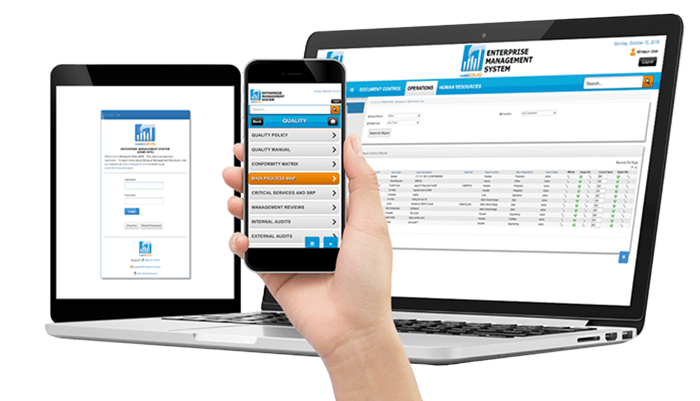 Frequently Asked Questions
The following documented information is typically requested during any ISO 27001 Audit, whether an internal audit, or gap analysis:
Information Security Policy
Information Security Objectives
Statement of Applicability (SOA)
Risk Assessment and Risk Treatment
Asset Register
Internal Audit report/evidence
Management Review outputs
Information required to be retained (Records)
Etc.
Depending on the Audit Type as well as the organization's processes and scope of the Information Security Management System, audits to the ISO 27001 standard, typically focus on the following areas:
Top Management
Information Technology
Information Security
Facilities/Building Security
Document Control
Operations
HR and Training
Server room or datacenter
An audit of the ISO 27001 standard can definitely be combined with other standards to become an Integrated Audit. Integrated Audits are easier to perform since the advent of the Common Framework and the High Level Structure that all ISO standards now follow.